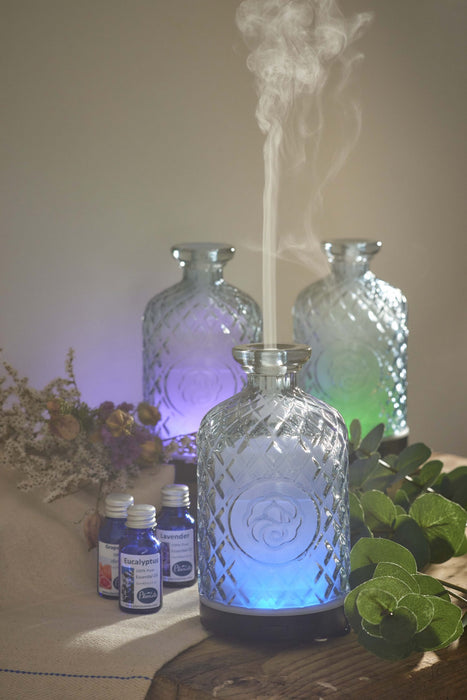 [video width="848" height="480" mp4="https://www.plaristoshop.com/wp-content/uploads/2019/09/video.mp4"][/video]
--
EMPOWER YOUR BREATHING
Ultrasonic,  colour changing glass diffuser. 
In our house it has been going day and night during lockdown and is being moved to wherever we needed it.
Together with the healing range of Essential Oils you use in this diffuser, it eases breathing, clears the head, helps to strengthen the immune system, calms your fears and lifts an anxious mood.
Great features
♣ Will switch itself off when low on water
♣ Silent and great for night use
♣ Diffuser can be used without light
♣ Light can be used without diffuser 
♣ Ultrasonic stone produces humidifying beam of cold steam
♣ No heat, low electricity
♣ Change colour settings: ♥ move through a rainbow of colour - fast or fading ♥ set to one mood colour, ♥ use without colour during the night,
---
Good to know:



Best performance when half full


Switches off when low on water


Start with a few drops of oil and ramp up if you like it stronger


Use on hard surface to allow vent on base to circulate air


Use only pure essential oils to avoid corrosion of ultrasonic stone inside mechanism


Don't forget to order from our great range of PURE ESSENTIAL OILS